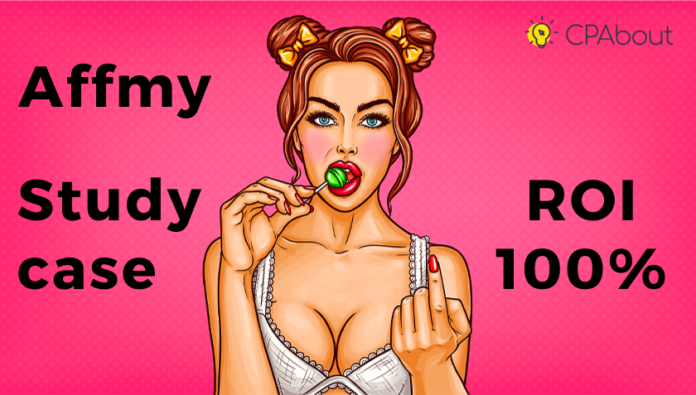 We would like to present to you a case study written by one of the Affmy's affiliates.
Traffic source: Push House, Tacoloco, Admaven, Adsterra
Traffic type: Push notifications
Schedule: 03.09.2020 – 24.09.2020
Affiliate network: Cpamatica, Affmy
Offer: LookAWoman
Geo : US, UK, CA, AU, NZ
Flow : SOI [ mob + web ] 1,6 – 2,0 USD
Spent: 335 USD
Earned: 670 USD
Profit: 335 USD
ROI: 100%
Offer: LookAWoman – a dating offer from Affmy
I first stumbled upon this offer back when my manager in CPAmatica sent me a list of top offers of the week. My choice fell on LookaWoman because of its flow — it's incredibly simple. LP is designed as popular messengers, where a user receives a message from a hot girl, and he has to type in his email to get access to her nudes. Secondly, push notifications convert the best on this offer, and given my previous experience, I know it brings some impressive results. CPA in CPAmatica was 1,60 USD for all geos (USA, UK, Canada, Australia, New Zealand).
Traffic source and campaign setup. This step is easy. I always rely on good quality traffic and the ability to run offers. The two push advertising companies I found to be matching my requests were Push-house and Tacoloco. Tacoloco doesn't have a detailed targeting option as well as postback integration, hence I couldn't use a tracker. I used the CPC model to sell the traffic, however, the bids were set higher than recommended. I ran my campaigns for Canada and the UK, and they showed some great results on the first day and did not require any additional optimization.
I ran the campaign for the USA and UK using Push-house since the rest of the geos (Canada, New Zealand, and Australia) didn't have enough traffic.
After one week of running my campaigns and rotating creatives in them, I decided to try out Admaven and set another set of campaigns with the creatives which showed the best results.
Admaven is a good trusted advertiser network. I tested it out and came to a conclusion, my campaign needs some optimization and compilation of black/whitelists. This is why I decided to pause my campaigns and resume it once I get my tracker set up.
I was watching Protraffic conferences on Youtube one night when I discovered Affmy — their representative made an impressive presentation about a dating vertical. I immediately registered on Affmy.com and spoke to a manager. It turned out LookaWoman was their in-house offer, and it had a payout of 2 USD. On top of that, the manager let me know that it will be available for DACH geos soon. Of course, I resumed the campaigns but used a new link. Plus, I also added Afmy's trusted partner Adsterra. I used their Social Bar, which showed some impressive results as well.
Creatives. I tested out multiple types of creatives, and the most successful were the ones, which had hot blonde girls on them, which kind of looked like the girl from the landing page. I ended up narrowing them down to the best converting creatives.
These are the results I got:
Total : 670 usd (Cpamatica + Affmy)
Push house : United Kingdom 99,52 usd + United States 53,08 usd = 152,6 usd
Tacoloco : United Kingdom 44,45 usd + Canada 32,36 = 76,81 usd
Admaven : United Kingdom 23,51 usd + United States 31,77 usd = 55,28 usd it's definitely worth testing other geos in this network since it gives you more targeting options
Adsterra: United Kingdom : 16,36 usd + United States 34,04 usd = 50,4 usd
Total : 152,6 + 78,8 + 55,2 + 50,4 = 335 usd
I had to pause the campaigns due to my vacation. I'm planning on resuming them with Affmy once I'm back. I have a great potential to increase my profit thanks to the dating offers of this network.
Conclusion. Use the freshest offers to get your ROOI up (or even over 100%). LookAWoman is a great example of that. My advice to you is, test out banner and native ads, besides push.Try running the DACH version of the offer, and make sure to rotate the creatives from time to time to make your campaign even more successful.