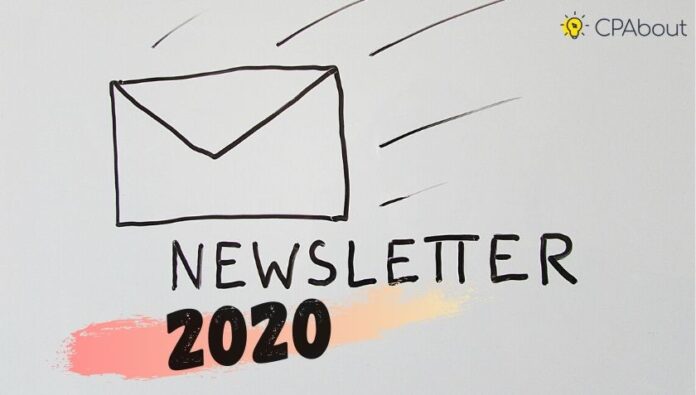 Every year the digital world surprises us with numerous changes, new technologies, fresh updates, and non-standard approaches to the tools we already know. Today we will talk about email marketing – one of the most effective channels for audience retention. We'll also share the key trends of 2020 that will help to increase the effectiveness of personal email newsletters and campaigns.
Where to start?
Despite the fact that many of us are familiar with email marketing, let's talk about the very first step in the process of money-earning on email newsletters. We are talking about the database. Let's start with white email databases. A white database means legally collected user information. How can one collect this information? There are several effective ways that are widely used by marketers:
get direct consent to send the newsletter
get double confirmation (double opt-in)
use lead generating pop-up and pop-up to hold and retain users
use a lead magnet
cross-channel approach
Talking about the lead generating pop-up and the lead magnet, we have to highlight the fact that these are some of the most popular methods today. You can use the lead generating pop-up to attract new users who have spent some time on the website. In the case of the lead magnet, it works on the principle of motivated traffic. In other words, it offers informative content, a free lesson, a checklist, a list of resources, and any valuable information in exchange for the data of the user (mainly an email). If we talk about the cross-channel approach, there are other traffic sources, which can also be used to collect email databases. For example, social media accounts or a content resource such as a blog are also great for collecting contacts.
Since white databases include only the target audience with voluntarily transmitted information by default, it takes a long period of time to collect them. At the same time, affiliates don't usually have a lot of free time. Therefore, black email databases are also widely used. The name says it all. The black database contains user information purchased or collected by using third-party programs. Naturally, the purchased database cannot consists of only target customers e-mails. In addition, it significantly increases the chances of falling into a spam or being blocked by a spam filter. Of course, the goal of any email campaign is monetization. For readers, the usefulness of the information is important, so the white methods remain more effective. However, we will not recommend working 100% clean or going to the gray sector. The thing is that individual factors play a key role.
How to make money with white database?
First of all, by selling services, products, or advertising. The placement of affiliate links in email newsletters will help you to monetize the collected database. If you are already working with Yandex.Direct, you know that affiliate programs do not always allow you to direct traffic directly from mailing lists. It all depends on the terms of a particular offer. However, the delivery of information in newsletters must hit the target in order to reach the desired level of conversion.
In the case of the advertising, two factors are critical: the number of subscribers and the open rate. What is advertising? In essence, this is a selling content in your mailing list or selling rights to send third-party advertising content on your behalf. As a result, the approach to the database is really important. The subscriber base must contain more than 10K addresses and offer the opening rate above 20%.
What about the black methods?
If you want to save time and resources, you can use the same methods applied to the black databases, i.e. spam. There is a chance that they will perform well; however, conversions from black databases are always quite low. You can also earn money by selling your database. However, it is worth remembering that the sale of personal data is illegal, and there is a chance to get a fine, for example in Russia.
However, in order to successfully launch an email campaign and keep the base, you need to understand how to use all the features of email marketing, and in particular, mailing lists and tools. The audience is too demanding, so we recommend you understand the latest email trends.
Machine learning
AI is important for segmentation of data and has recently become an amazing tool for email marketers. By using AI and machine learning, you can collect data, cluster it, then identify user behaviors and, as a result, create relevant offers for specific groups of users. Keeping in mind that artificial intelligence detects certain "mail" habits and reactions, it also helps to determine the best timing for sending emails, which corresponds to the peak of audience activity.
Optimization and adaptability
Today, the vast majority of people use mobile devices. Accordingly, desktop versions still take place, but the percentage of opening from mobile devices is much higher. Keeping in mind the fact that about 99% of consumers use mobile devices to check email, mailing lists should be ideally optimized for smartphone screens. The adaptive layout is not new but still needs to be taken care of.
Hyper personalization
This trend has been in the top positions for many years, but it is still not fully used in email marketing. From the moment we log into Facebook and until the moment when we send any request to Google, we already get personalized content, and there is a good reason for this. Such content always converts.
Of course, detailed personalization of mailing lists is quite a difficult task. The more information you have about a user, the more chances you have to personalize your mailing lists as much as possible. However, we can see that recommendation and trigger letters have become more frequent recently. The most difficult part of the task is personalized CTA. By the way, HubSpot claims that such calls to action convert 202% better than standard or multivariate ones.
User-generated content
User-generated content simplifies the task of creating the same content as much as possible and at the same time increases the CTR. It's just a godsend for the marketer. Another advantage is that it increases the level of trust due to real-time reviews, photos, and, accordingly, increases the chance of the required action.
Interactive design
This is, perhaps, the most popular trend. First of all, an interactive approach is a guarantee of increased engagement, because users still like to click on buttons and look at GIFs. What can we say about the gamification?! The key problem is the fact that implementing these trends requires additional resources. In fact, many additional resources. However, the issue of payback, in this case, should be the main one.
Dark themes
These days, almost every social network, messenger, and even some email clients have added the ability to switch to the "dark side". Of course, it is not so easy with mailing lists, but we will not go into technical details and just leave this guide for you. It might come in handy.
That's all for today. Never forget that email marketing is not dead, as many people are still trying to claim. Vice versa, it remains one of the main and still effective channels of communication. Even millennials haven't given up on it yet, which is worth your attention!
If you already have white databases or you are just planning to test email traffic, the SmartLink from the ProfitSocial direct advertiser will be a great solution for you. They can find a SmartLink suitable for your traffic.