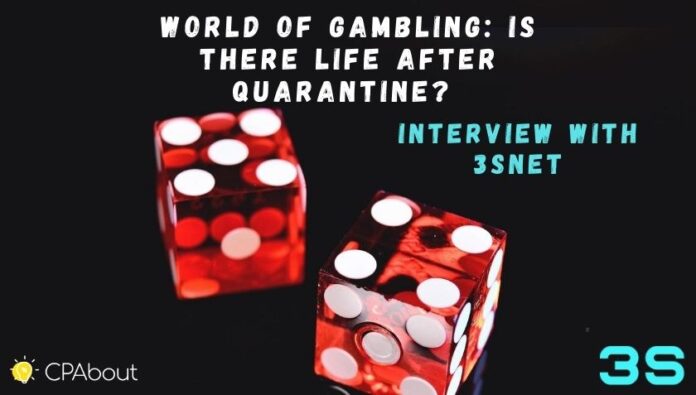 Today we are talking with representative of 3snet – an experienced gambling and betting Affiliate network. Today we have a unique chance to talk with Alex Miller, an expert analyst at 3snet. In other words, no one will leave without an expert opinion on the gambling vertical today. 🙂
1. So, here's the most exciting question for all readers. How is gambling doing after the quarantine? Are there problems with the vertical? Is it still relevant?
During the first weeks of the quarantine, gaming activity clearly increased. After suddenly finding themselves isolated at home without the usual ways and means of entertainment, people decided to immerse themselves in the online world. In addition, the players had more time. Some of them had no work at all, while others saved a lot of time on trips to the office and going to the gym.
In a few weeks, it became clear that even though new players have free time, they are not really involved in the game. Most casino users have reduced their spending. Some countries have imposed legal restrictions on the amount of spending in the field of gambling and creatives support. As a result, advertisers temporarily stopped offers or reduced their budgets.
These days, when the peak of uncertainty has already passed, many countries have removed or are removing quarantine measures, and the gambling industry is slowly reviving. Casinos are able to attract not only regular players but also users who registered for the sake of interest during the quarantine.
According to the data at the end of June 2020, we can say that the field of gambling is gradually coming to stability.
2. Which Geo do you think is the most promising when working with gambling?
Gambling in the Russian-speaking world has been virtually drowning for a long time, and there are a number of reasons for this:
The decline in confidence in Russian projects is caused by the appearance of many unknown casinos without licenses and budgets. All they do is cheating on players and affiliates.
The decrease in the level of income of the players leads to a decrease in the amount they are willing to spend on entertainment, which affects the payback of the casino.
The level of competence of the casino staff is also decreasing. As a partner network, we are always happy to meet a ready-made team that can provide technical support, has strong analytics, good marketing, and is able to work with users. Unfortunately, the real number of such teams is seriously limited these days.
In addition, we all know that Roskomnadzor plays a big role and eliminates more and more good thematic resources related to gambling.
We are now doing well in Ukraine and India, and the situation in the Scandinavian countries is traditionally good. We are also trying to work in Japan.
It is clear that the future belongs to countries with large populations and high-income countries. Usually, they do not intersect and are therefore covered by many different brands and methods of attracting traffic.
3. Many people say that gambling is the most profitable vertical, is it true?
Any niche is profitable if you understand how to work in it. There is an undoubted advantage in gambling: people like to play in casinos, and you are able not to just get money for a request or purchase, as in other niches. You can get income for high-quality traffic for a long time using a hybrid or RevShare model.
4. What is the top model today: CPL or deposit?
I have to say that the CPL has almost died in gambling. It can be used only for non-core sources, for example, a dating website in addition to the key services. Users of the website can play once in a while. At the moment, CPA, RevShare, or a hybrid (CPA+RevShare) are the most common methods in gambling.
The CPA model is usually taken by affiliates and fraudsters. Affiliate partners are not always able to calculate the profitability of the source used, so the model is convenient for them. There's no need to explain anything in the case of fraudsters.
Hybrid and revenue sharing models are taken by doorway operators, owners of thematic resources and applications, user databases, and affiliates who are confident in their traffic.
5. Who is the target audience on the gambling vertical?
There are two mandatory requirements from advertisers: age of majority and the ability to pay. This is the dream of an advertiser of any subject.
We are not casino owners, but insiders tell us that officials, single women over 40, and men with technical professions and/or education play really well.
For the rest, you need to focus solely on the knowledge of human psychology and mentality. For example, in the UK, this is a way of leisure. As a result, you need to search for an audience using leisure or brand creatives. In Russia, casinos are more often advertised as a way of earning money, respectively, this is an audience of fans of fairy tales about the goldfish.
6. What traffic sources are popular in 2020?
It all depends on the Geo of offers. Many affiliates come with their own apps or ask for apps without realizing that this source "died" for the advertisers two years ago. And now they only "feed" the developers of these applications with their requests.
In affiliate marketing, this is the same contextual advertising and social networks in the countries where they are allowed. Where gambling is prohibited, affilites use cloaking. However, you need to have some technical knowledge in this case.
Video services also perform well. One can use doorways, streams, and simply designed profiles. Of course, our favorite owners of thematic content, such as websites, forums, channels, and apps that provide useful information for players.
Non-core resources can also be useful, but usually not for a long time. Users are interested in a new offer but get tired if they see it constantly.
There is always hope that there will be a new source that will be as successful as push-notifications many years ago.
7. Are there any interesting and new trends on the vertical?
There are positive ones:
Since the beginning of the year, even before the pandemic and economic crisis, interest in online poker has increased. This game, while maintaining the gambling component and the element of chance (as, for example, in slots), requires the ability to analyze the situation, and an understanding of the psychology of the opponent. It takes the online game to a more complex and interesting level.
The second point that we have noticed recently is that more games and services have appeared. The key difference is the fact that they are easier to download (in-app or in browser) and understand.
The legalization of gambling in some countries gives huge advantages to all market participants. Players can safely play, affiliates can safely advertise, payment cards can be safely processed, the casino receives income, and shares it with the state in the form of taxes. Moreover, legal regulation makes it possible to protect people with gambling addiction and debts.
Negative ones:
We have already written above about the decline in the level of competence of the casino employees themselves and the illusory opinion that anyone can open a casino without knowledge and money.
8. What are your future plans? Can you share them with us?
We are actively developing our own traffic, as the number of partners with high-quality traffic is not growing. People prefer to pay money for fraud courses instead of affiliate marketing or marketing courses.
9. Can you give a few tips for those, who run traffic to gambling?
Don't chase the bets. Look at the conversion rate and how the casino works with your audience. Every day we see examples when players of the same partner make money in one casino while causing nothing but losses in the second one.
You need to find people, who play in casinos to entertain. It shouldn't be a way to earn some money.
Always test your approaches! Be sure to test all the connections.
Choose a partner network based on recommendations. Before anything else, you have to focus on the opinions of webmasters, whom you know personally.